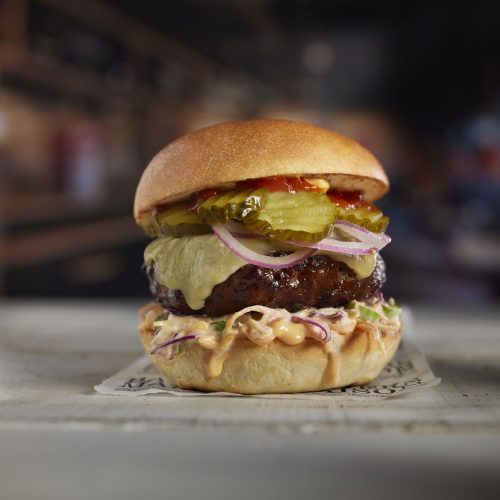 WAGYU & SRIRACHA SLAW BURGER
Gourmet, Super Juicy & Flavourful
Ingredients
Bakers Maison Milk Bun

Wagyu Beef Patties

Pickled Red Onions

Pickles

Aged Cheddar

Slaw (Cabbage, Carrots, Onion)

Tomato Sauce

Mayonnaise

Mustard

Sriracha
Instructions
1. In a bowl, combine the mayonnaise, tomato sauce, mustard, pickle juice and sriracha. Season to taste.

Heat a frying pan and add the seasoned wagyu beef patties. Once cooked, add the aged cheddar on top of the patties to melt.

Use 3/4 of the sauce made and mix in with the slaw.

Toast the sliced Milk Bun until golden.

Build the burger by adding the creamy slaw, wagyu patty, picked onions and pickles between the toasted buns Enjoy!