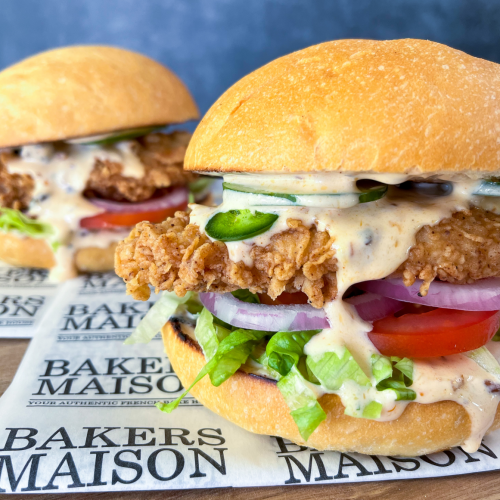 KRUNCHY FRIED CHICKEN BURGER
Spicy, Crunchy & Mouth-Watering!
Ingredients
Bakers Maison Brioche Bun

Crumbed & Fried Chicken Thigh

Sliced Green Chilli

Sliced Tomatoes

Sliced Red Onions

Shredded Lettuce

Mayo

Tomato Sauce

Sriracha
Instructions
In a bowl,combine the mayonnaise, tomato sauce, and sriracha. Season to taste.

Shallow fry the crumbed chicken thigh, or AirFry.

Toast the sliced Brioche Bun until golden.

Build the burger by adding lettuce,chicken, sauce, onions, tomato,chillies and more sauce between the toasted buns. Enjoy!