Bread is an essential part of dining that is found on the table during most meals. Let Bakers Maison guide you in knowing which bread to choose according to your dishes!
What bread to eat at breakfast?
Sweet and steady to start! Croissants are usually the typical go to bakery goods for breakfast. But traditional wholemeal toast, milk bread, brioche bread or sandwich bread can complement the rest of your morning meal.
With which bread to eat cheese?
Here you have two possible solutions, depending on the type of cheese. If you have strong cheese such as blue or saint nectaire, opt for bread with dried fruits, such as raisin bread, fig or apricots. The marriage of sugar and strong cheese is both original and irresistible.
If you want to accompany hard cheese, such as Emmental or Cantal, prefer a wholemeal or multigrain bread whose gourmet touch goes well with cheese.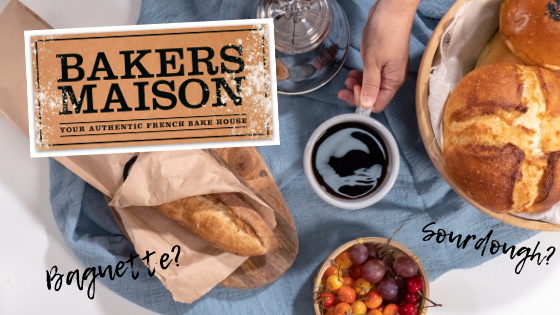 What bread to eat with meat?
The first thing to do is to determine what type of meat you want to accompany. In the case of red meat, sourdough bread is recommended. If you have white meat or poultry, accompany them with a wholemeal or seeded bread.
What bread to eat with fish?
Fish and seafood go hand in hand with the well-rounded rye bread, which highlights the iodine flavours. However, be careful not to choose a rye bread too strong, whose taste of rye eclipses the flavours of fish!
And the traditional baguette?
The traditional baguette can be associated with any dish, as it is soft and neutral. We promise you it will get the job done! It is suitable for all types of foods!
Bakers Maison provides a wide range of different style traditional breads as well as speciality breads such as milk buns, hot dog rolls and sliders. We also provide retail ready sliced cafe loaves in 3 distinct flavours (white, multigrain & rye).
For more information and support, feel free to reach out via our social media channels, our website or simply call 02 8707-7777.