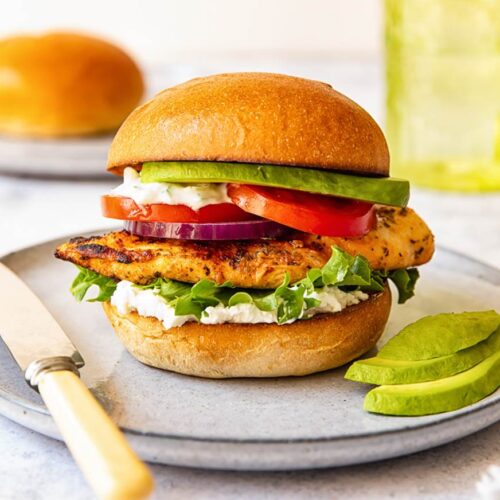 Honey-glazed Chicken Burger
Ingredients
4

Boneless, skinless chicken breasts

1/4

cup

Honey

2

tbsp 

Soy sauce

1

tbsp 

Olive oil

1

clove

Garlic, minced

4

Bakers Maison Milk Buns/Sesame Seed Milk Buns/Potato Buns

Lettuce, tomato and onion

(optional)
Instructions
Preheat your grill to medium-high heat.

Combine the honey, soy sauce, olive oil and minced garlic in a small bowl and whisk to combine.

Season the chicken breasts with salt and black pepper.

 Brush the chicken breasts with the honey glaze.

 Place the chicken breasts on the grill and cook for 6-7 minutes on each side, or until they are cooked through.

 During the last minute of cooking, brush each chicken breast with more honey glaze.

 Toast the buns on the grill.

Assemble the burgers by placing each chicken breast on a toasted bun, adding any additional toppings you desire.